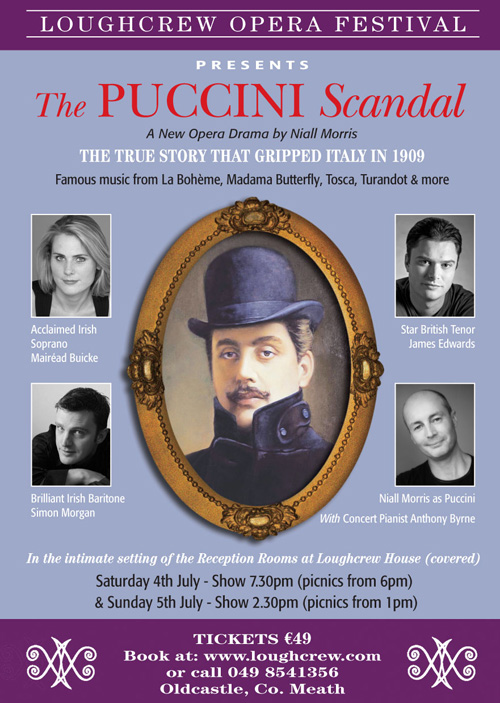 "The Puccini Scandal" is a new opera drama about the life of one of the world's most loved opera composers. Giacomo Puccini is suffering writer's block at his villa in Torre del Lago, Tuscany. He looks back over his life; the premieres of 'La Bohème'. 'Madame Butterfly' and 'Tosca'; the affairs he hadwith the women who inspired his heroines; the struggles with his librettists and critics. He describes the sex scandal which threatened to destroy him and his family in I909, when his wife accused him of having an affair with their young maid, Doria. It was a huge national scandal and very nearly tore the Puccini family apart. The tragic incident went on to inspire his final great opera, 'Turandot'.
Written and directed by Niall Morris, who plays the narrative role of Puccini, the performance stars leading Irish soprano Mairéad Buicke, who had a huge success as Maria Callas in Niall's previous show, CALLAS. They are joined by top UK tenor James Edward, who recently won rave reviews as Pinkerton in 'Madame Butterfly' at the Royal Albert Hall. The Irish baritone, Simon Morgan, will also be starring and Mairéad's husband, theinternationally acclaimed concert pianist Anthony Byrne, will accompany the singers.
Performed in 2 Acts in Loughcrew House's intimate Reception Rooms the show will have an hour long interval when guests can enjoy their own picnics in the gardens and courtyard beside the Reception Rooms or can enjoy a Loughcrew Italian 'Puccini Picnic' in the comfort of a Marquee.
Come to hear Niall Morris's NEW Opera Drama.
Bring your picnics and candelabras.
TICKETS ON SALE NOW!
Bookings can be made by calling us on 049 8541356 or online using the form below
Make sure to support and spread the word about our fantastic event!